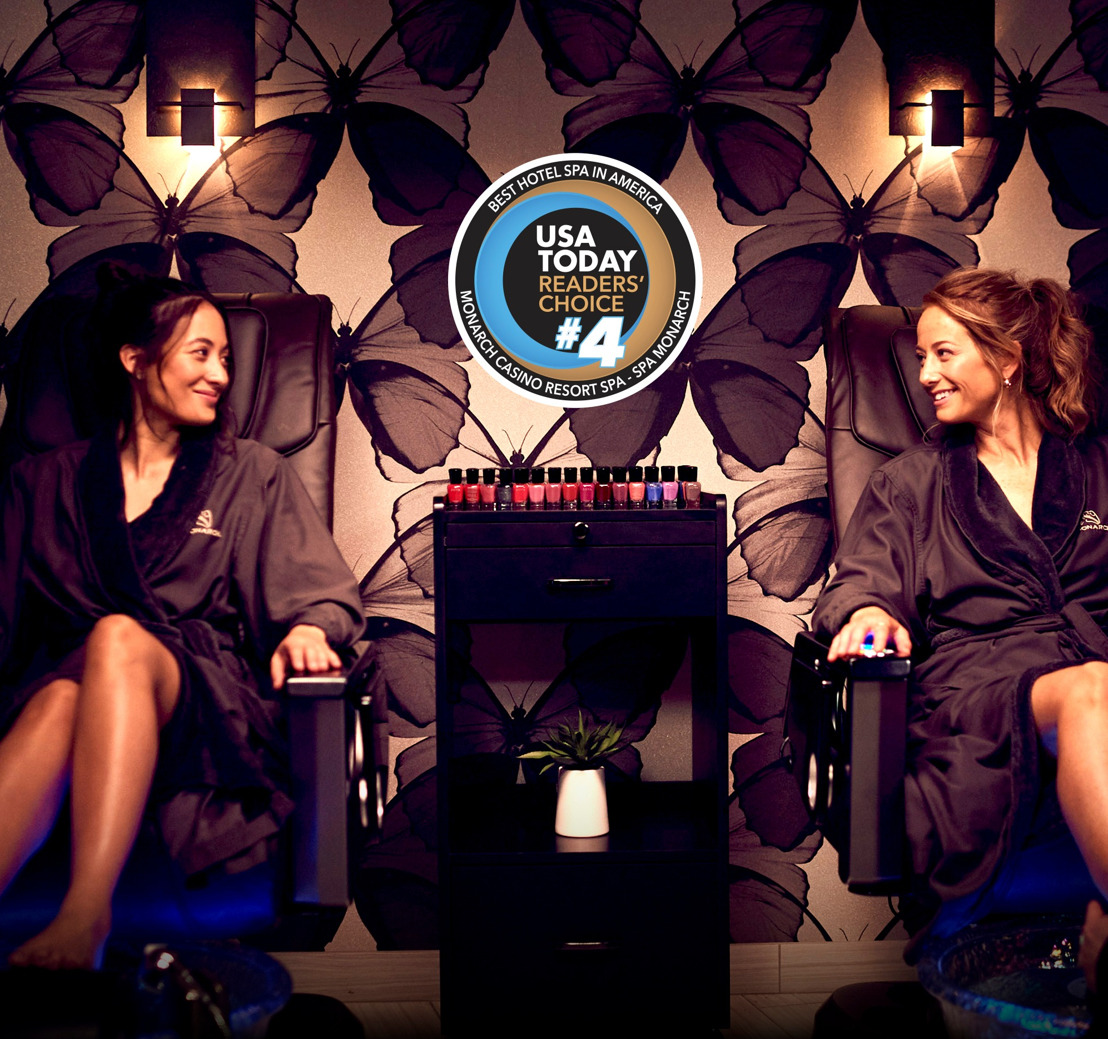 The votes are in and Spa Monarch is honored as one of the top spas in America by USA Today voters
Spa Monarch ranks 4th highlighting its Modern Mountain ambience as the only Spa awarded in the Mountain West
The ballots have been cast, and Spa Monarch has emerged as the 4th leading vote-getter in a nationwide competition to determine who has the best hotel spa! USA Today readers took part in the four-week polling period beginning in mid-July and wrapping up in mid-August. During that time frame, Monarch Casino's Spa Monarch ascended from 19th of 20 contenders in voting all the way to 4th!
Each year, the esteemed USA Today expert panel scours the nation to sample and recognize the travel industry, shining a spotlight on the country's finest hotels, destinations, and attractions. Spa Monarch was selected for its exceptional facilities, treatments, and services, making it a top choice for travelers seeking relaxation and rejuvenation.
"We are beyond excited to accept this national award and to be in the same conversation as the most elite spas at luxury destinations in the country. Accomplishing this feat in just two and a half short years shows the vision and dedication of our owners and team members," said Erica Ferris, Director of Marketing at Monarch Casino Resort Spa. "Spa Monarch's mission will be to continue to provide guests with an unparalleled spa experience, incorporating innovative treatments and state-of-the-art wellness systems that promote personal discovery, healing, and rejuvenation."
Situated amidst the breathtaking natural beauty of the Rocky Mountains, Spa Monarch offers a full range of luxurious amenities that guarantee an unforgettable, blissful experience. Visitors can indulge in the rooftop pool on the 23rd floor, relax by the fire pits, immerse themselves in the aqua spa, revitalize in the mountain stone bath, and experience unique therapies such as brine inhalation & light spectrum therapies. The spa also features herbal steam rooms and an experiential shower that simulates ice, fog, thunder, tropical rain, and waterfalls with essential oils.
For more information about Spa Monarch at Monarch Casino Resort Spa, visit https://monarchblackhawk.com.
Jordan Sherman M&C Communications | On behalf of Monarch Casino Resort Spa