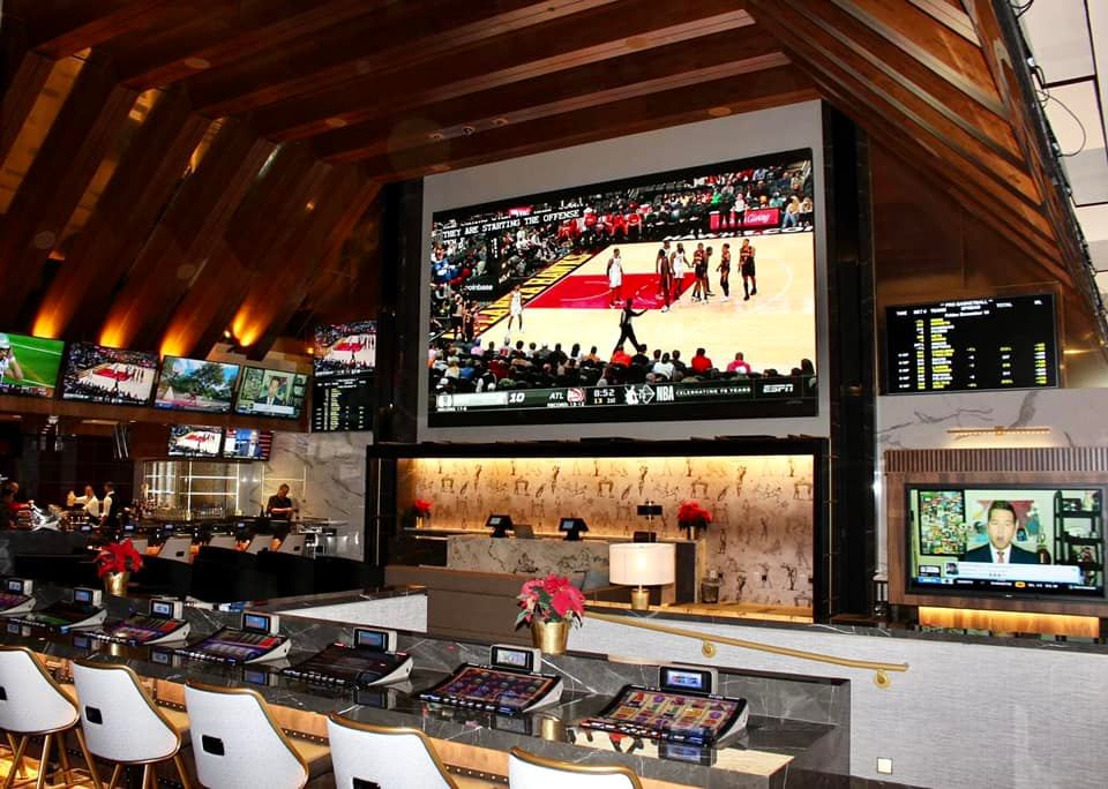 The BetMonarch Sportsbook & Lounge puts the "BIG" in the big bowl bash this Valentine's Day Weekend
Feel the excitement thanks to the 22-foot monitor, state-of-the-art sound system, and your chance to win $25,000 at the brand-new BetMonarch Sportsbook & Lounge
Whoever said size doesn't matter clearly hasn't seen the 22-foot wide screen at the brand-new BetMonarch Sportsbook & Lounge. The massive monitor and state-of-the-art sound system will make guests feel like they're at the big game! It's the perfect place to spend Valentine's Day weekend, whether you're paired up with a partner or having a great time with a whole bunch of your newest friends at Monarch Casino Resort Spa!
The BetMonarch Sportsbook & Lounge is spicing things up for the big game with a chance to win $25,000 if the opening kickoff is returned for a touchdown. You also have a chance at up to $1,000 if there's a defensive or special teams touchdown scored at any point during the game. Remember to be eligible to win, you MUST swipe your card at a Monarch Rewards kiosk before the game and you must be present to win!
Get your heart pumping with props this weekend! If you're comfortable betting sides, that's great. If you want to step outside your comfort zone, there are hundreds of props to choose from! Receiving props? Passing props? Kicking props? Defensive props? BetMonarch has 'em! And the list goes on… for about 20 pages:
What's not to love Denver football fans? Enjoy the GUILT-FREE Valentine's day gift of cheering for whoever you want this year! For the first time since our blue and orange hoisted the Lombardi trophy, there are no "villains" competing in the big bowl bash- no Mahomes, no Brady, no New England! Come on up and just enjoy the game, a cool, Colorado craft brew, and some great eats from one of Monarch's award-winning restaurants.
But wait– you're bringing someone who doesn't love "sport-ball?" You know it's called Monarch Casino RESORT SPA, right? There's a very good chance your honey will love playing one of Monarch's 1,100 electronic gaming machines featuring the newest games in Colorado or the red-hot action of the felt playing craps, baccarat, blackjack, and more at one of Monarch's 37 live table games! Don't forget the all-new poker lounge, with a dozen tables offering no-limit action! Or, if peace and tranqulity make your honey's heart go pitter-patter, book a relaxing and luxurious treatment at Spa Monarch!
There's something for everyone this Valentine's Day, Big Bowl Bash weekend at Monarch Casino Resort Spa, from the relaxing 45-minute drive from Denver through breathtaking Clear Creek Canyon, to a state-of-the-art parking garage featuring the shortest walk to the gaming floor in Black Hawk, to the red-hot gaming action that will set hearts aflutter this Valentine's Day weekend! Play and stay at Colorado's premier gaming resort destination!
Jordan Sherman M&C Communications | On behalf of Monarch Casino Resort Spa