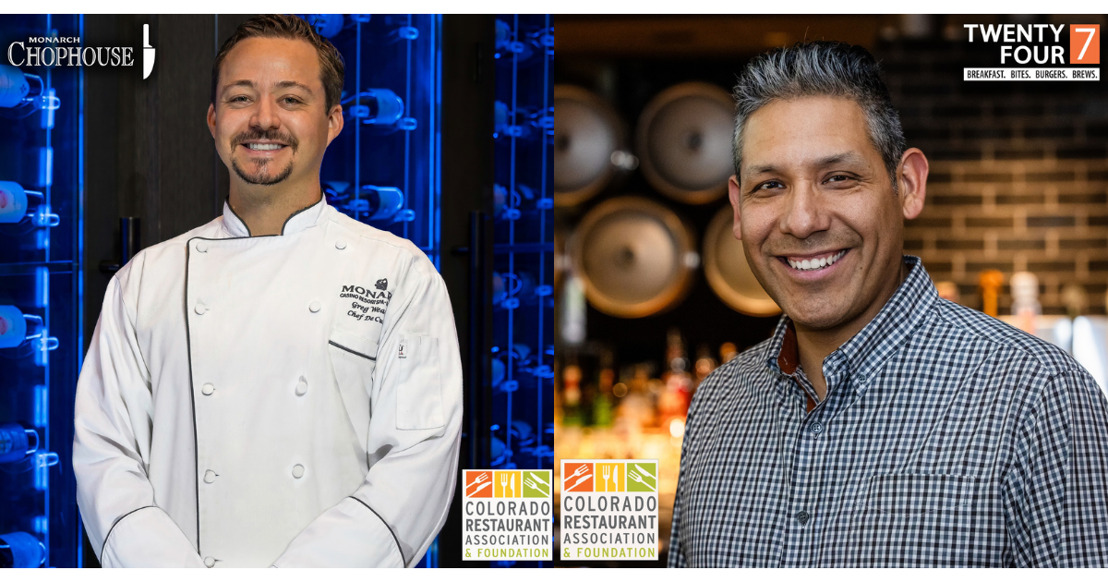 Monarch Casino Resort Spa Team Members Receive Top Colorado Restaurant Association Industry Spotlight Awards!
Among the honorees are Monarch Chophouse's Executive Chef Greg Weadick and TwentyFour-7's Server Extraordinaire Marco Vasquez
Monarch Casino Resort Spa proudly announces that two of its Team Members are being recognized for their exceptional contributions to Colorado's vibrant culinary scene by the Colorado Restaurant Association & Foundation. Executive Chef Greg Weadick of the Monarch Chophouse has been named Colorado Chef of The Year, and Marco Vasquez, a server at TwentyFour-7, has been awarded the Front of House Employee of The Year.
These awards spotlight the passion and professionalism both Chef Greg and Marco consistently deliver to Monarch Casino's guests, furthering a collective goal to provide an ultimate dining experience.
Chef Greg and Marco will be honored and humbly accept their CRA Awards on Wednesday, November 8th, at the Ellie Caulkins Opera House in Denver, an annual event that celebrates the people who are the backbone of Colorado's dynamic restaurant industry.
Chef Greg, renowned for his innovative approach and mastery over flavors, has guided the Monarch Chophouse for the past four years, earning numerous accolades. His recommendation for the perfect evening at the Chophouse reflects his philosophy of combining classic techniques with contemporary twists, ensuring an unforgettable dining experience. He suggests the ideal dining experience begins with a pre-dinner gin martini, then continues after being seated with an order of delectable oysters and bison carpaccio paired with a crisp glass of champagne, and then finally settling in to watch a Chophouse Chef (tableside captain) expertly prepare a steak Diane before a guests very eyes. Then, he advises guests to conclude with an irresistible bite of key lime-filled butter cake.
Marco is known for his ceaseless commitment and exemplary guest service at TwentyFour-7. His work raises the bar for servers and challenges his fellow Team Members to strive toward providing an ultimate guest dining experience. His guidance for the perfect lunch speaks to his intimate knowledge of the menu and a keen understanding of guest preferences. He suggests beginning with crispy calamari as an appetizer before moving on to the main course- blackened salmon served with seasonal veggies, mashed potatoes, and lemon caper sauce. Lastly, he encourages guests not to skip dessert because that would mean missing out on TwentyFour-7's famed New York style Cheesecake.
"Their awards reflect our entire Food and Beverage team at Monarch Casino Resort Spa," said Kris Thottekat, Food and Beverage Director for Monarch Casino. "These two individuals have the unique ability to make others around them perform at a higher level, raising the bar and expectations for guests at all of our restaurants."
You're more than welcome to enjoy a dining experience with Chef Greg's team or Marco in person! The easiest way to book is to visit OpenTable.com and search Monarch Chophouse or TwentyFour-7.
Jordan Sherman M&C Communications | On behalf of Monarch Casino Resort Spa