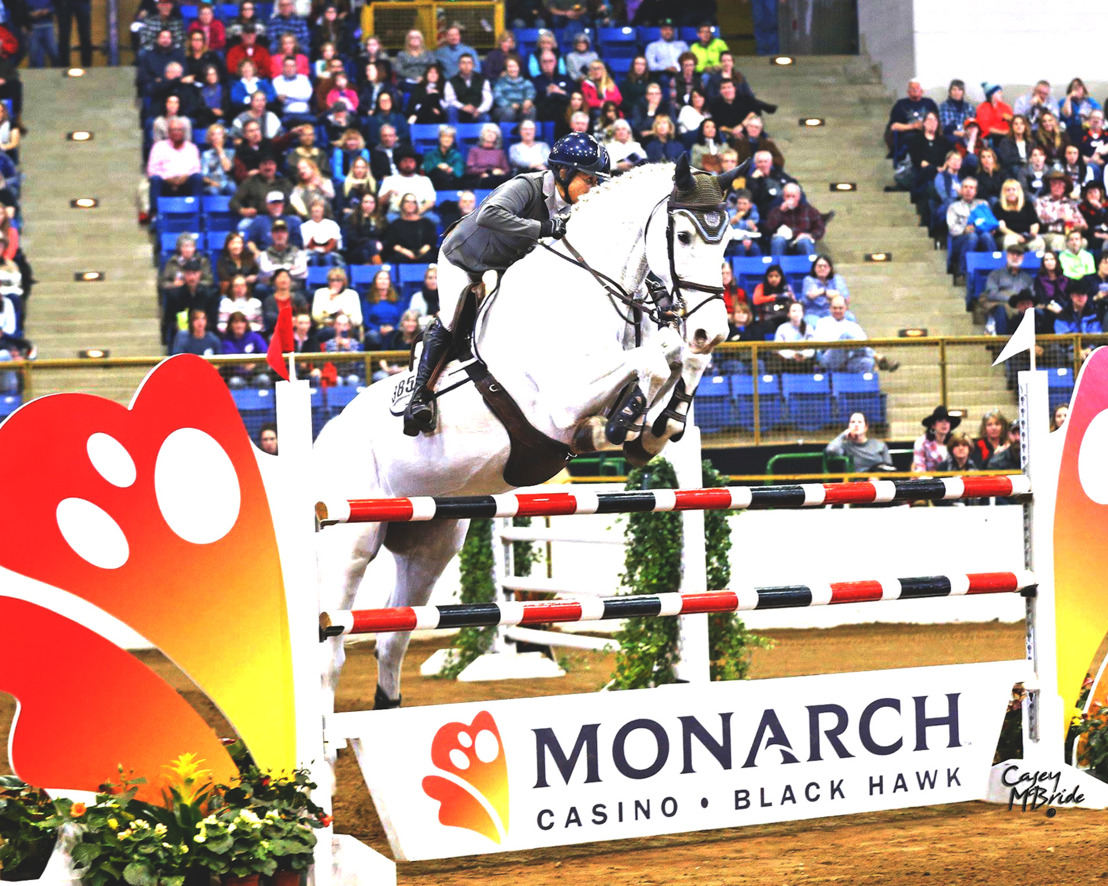 Monarch Casino Resort Spa Sponsors the $15,000 Gambler's Choice and $40,000 Grand Prix at the 2023 National Western Stock Show
Monarch Casino continues a seven-year tradition at Stock Show
The Monarch Casino Gambler's Choice Jumper Stake and Grand Prix, presented by Monarch Casino, are two of the most popular horse events at the National Western Stock Show. 2023 marks the seventh year Monarch Casino Resort Spa has sponsored these two events.
The excitement begins at 7:30, Friday, January 13, with Gambler's Choice. It features top-level jumpers competing in a high-energy performance with a thrilling twist. Each horse and rider pair maneuvers around a timed course to see who can accumulate the most points ... and who dares to take a "gamble" on the joker fence at the end!
The Monarch Casino Resort Spa Gambler's Choice provides crowds with a rock-and-roll atmosphere where the more riders dare, the more the crowds shout approval, and the higher the winnings. The daring event features horse and rider pairs going faster and jumping higher to make it through the unique course the fastest and the cleanest.
Each rider jumps the course of 10 to 14 fences starting at 4-feet 6-inches in height. Each fence carries a point value based on its degree of difficulty. The riders decide their own path around the course but can only jump a fence twice, and only if it's still standing. Each rider then has the option of taking the Joker fence with the risk of gaining a large number of points or losing those points with a knockdown.
Many of these horse and rider teams will show again Monday evening, January 16, at 7 PM in the $40,000 Grand Prix, presented by Monarch Casino Resort Spa. The prestigious event attracts tops horses and riders from across the nation.
Each competitor jumps one round over a course of 10 to 14 jumps from 4-feet 6-inches in height and higher. The top horses accumulating the least number of faults are required to jump a second round over a course of 8 to 12 jumps, raised in height from the previous round. The width of all jumps ranges from five to six feet. Final scores are determined by adding the total faults incurred in both rounds and adding any penalties for exceeding the time allowed in either or both rounds.
For tickets to this year's Gambler's Choice and Grand Prix, visit the National Western Stock Show.
And to learn more about the exciting events, fabulous restaurants, and exquisite spa at Monarch Casino Resort Spa, click here.
Mitch Jelniker M&C Communications / on behalf of Monarch Casino Resort Spa