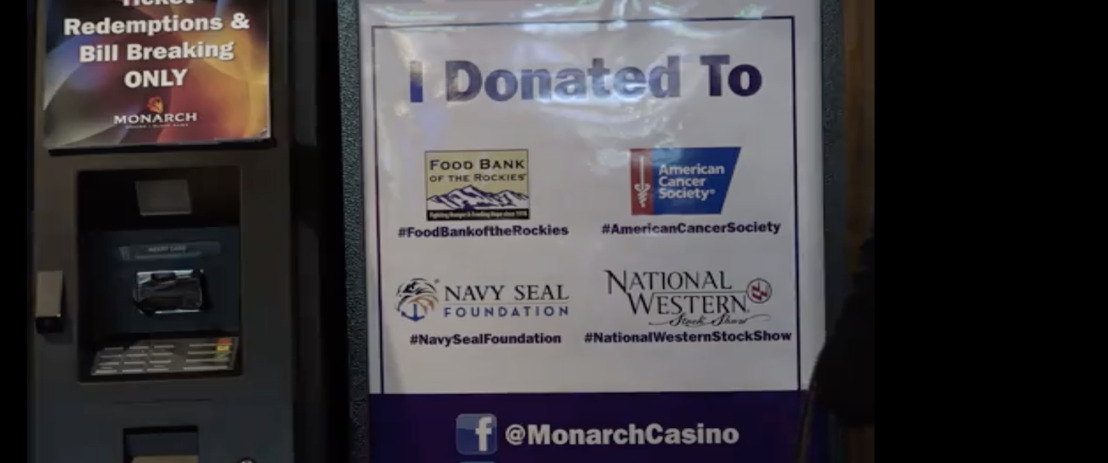 Monarch Casino Resort Spa guests donate nearly $27,000 to charity in 2021
Giving program channels guests' spare change into big donations, more than double last year!
Monarch Casino Resort Spa guests helped make the holidays brighter this year by donating their spare change from slot machine winnings to the tune of nearly $27,000 in donations to charity. That's more than double the amount guests gave in 2020!
Here's how it works: after playing slot machines at Monarch Casino Resort Spa, guests easily cash out their proceeds at an Everi digital kiosk, round down their winnings to the nearest dollar, and donate the difference (99 cents or less) to one of four non-profit organizations. Guests choose between Food Bank of the Rockies, the American Cancer Society of Colorado, National Western Stock Show, or the Navy SEAL Foundation.
With more than 1100 slot machines spread out across 60,000 feet of gaming floor, guests can enjoy their favorite games year-round knowing their spare change is helping the community.
Monarch Casino Resort Spa's expansion includes additional gaming space and the brand-new BetMonarch Sportsbook & Lounge! Featuring a gigantic TV monitor measuring a whopping 16' from corner to corner and a state-of-the-art sound system, guests feel like they're right there at the game!
The expansion of Monarch Casino Resort Spa gives guests a bumper crop of activities to enjoy, from the newly-opened luxury spa featuring world-class amenities atop a mountain modern 23-story hotel. Or, indulge in a meal to remember at the award-winning Monarch Chophouse or Buffet! And if you get caught up in the red-hot gaming action until all hours, TwentyFour-7 restaurant chefs are standing by around the clock to indulge your appetite. Also, don't forget to explore our all-new games including pai gow poker, baccarat, keno and a variety of live poker games in our brand-new poker room! Play, then stay at Colorado's premier gaming resort destination, a short 45-minute driver west of Denver through Colorado's breathtaking Clear Creek Canyon!
Jordan Sherman M&C Communications | On behalf of Monarch Casino Resort Spa